Study reveals dog breeds most at risk of anal sac disorders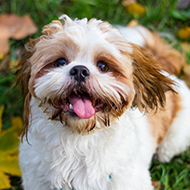 Findings provide guidance for more targeted work on risk factors and treatments.

The frequency and treatment of anal sac disorders in dogs have been explored in a first-of-its-kind study led by the Royal Veterinary College (RVC).

Published in the journal Veterinary Record, the VetCompass™ study aims to correct the lack of evidence-based information on the epidemiology and clinical management of non-neoplastic anal sac disorders (ASD). In particular, it focuses on identifying dog breeds with an increased or reduced risk of this often-neglected syndrome.

It reveals that the breeds at most risk of an anal sac disorder are the Cavalier King Charles spaniel, King Charles spaniel and cockapoo. Conversely, dogs at reduced risk are larger breeds, such as the boxer, German shepherd and lurcher.

Interestingly, the study found that brachycephalic breeds such as Shih-Tzu are 2.6 times more likely to develop an anal sac disorder compared to long-faced dogs, such as Border collies. Dachshund-types and Poodle-types also both had increased risk of anal sac disease.

Researchers hope their results will fill knowledge gaps and guide research into anal sac disorders, helping breeders, owners and veterinary practice alike.

Study author Dr Dan O'Neill, a senior lecturer in companion animal epidemiology at the RVC, said: "During two decades in first opinion practice, anal sac problems in dogs were a routine daily presentation for me. However, when I searched the literature to find evidence on the best way to treat these dogs or even on which breeds were at most risk, there was almost no information available.
"It seemed back then that only problems that were severe enough to be referred to universities in large numbers were researched. As a result, vets in first opinion practice generally had to work out for themselves what seemed to be the best treatment in these cases. It is refreshing now to see research on common problems in dogs under first opinion veterinary care being reported. Owners and vets need this evidence vitally."

In the study, researchers identified 2,372 anal sac disorder cases from a population of 104,212 dogs attending VetCompass™ practices during 2013. Other key findings include:
anal sac disorders affected 4.4 per cent of dogs
the risks of anal sac problems were higher in older dogs
insured dogs were 1.53 times more likely to have anal sac problems diagnosed than uninsured dogs
20 per cent of dogs with anal sac problems were prescribed antimicrobials, while 12 per cent were given pain relief
anal sacs were surgically removed in under one per cent of affected dogs.
dietary change was recommended in 8.18 per cent of cases, with weight loss recommended in 1.14 per cent of cases.
Study co-author Dr Anke Hendricks, associate professor of veterinary dermatology at the RVC, commented: "Our understanding and management of anal sac disorders has not fundamentally changed since the 1970s, and there is still a lot we do not understand.
"By confirming the significance of anal sac problems in primary care practice in the modern dog population, this study now provides guidance for more targeted work on types of anal sac disorders, risk factors and best treatment practice."

Large graphic (C) RVC's VetCompass programme